Picasso, up close and personal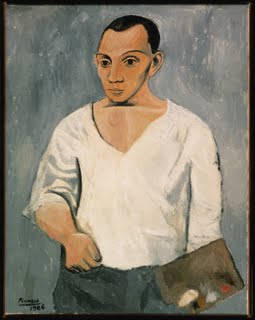 Here's
a good way to prep if you are planning to go view the exhibit
Picasso and the Avant-Garde in Paris
now through April 25 at The Philadelphia Museum Art.
Check http://www.youtube.com/PhilaArtMuseum
For an up-close look at the special exhibition, Picasso and the Avant-Garde in Paris , the Museum shares a new series of informative videos, featuring Michael Taylor, The Muriel and Philip Berman Curator of Modern Art. In the first videos from this series, Michael Taylor discusses the Americans in Paris gallery, which captures the Lost Generation of artists and writers who formed Picasso's circle and made Paris what it was in 1920. He also illuminates the Salon Cubism gallery, focusing on Jean Metzinger's Tea Time (Woman with a Teaspoon) , which was known as the "Mona Lisa" of Cubism. More videos are planned.
The photo above, courtesy of
The Philadelphia Museum of
Art. Self-Portrait with Palette, 1906.
Pablo Ruiz y Picasso (Spanish, 1881 –
1973). Oil on canvas.
Philadelphia Museum of Art, A.
E. Gallatin Collection, 1950. Estate of
Pablo Picasso / Artists Rights Society
(ARS), New York.

Labels: Avant-Garde, Paris, Phildelphia Museum of Art, Picasso