OUCH!!!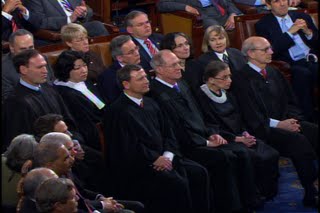 During
his first State of the Union speech Wednesday,
Obama rebuked the Supreme Court for a recent decision that "reversed a century of law to open the floodgates for special interests" and foreign corporations to make unlimited campaign contributions. At that, conservative Supreme Court Justice Samuel Alito made a dismissive face, shook his head in disagreement and seemed to mouth the words "not true" as the president spoke.
- Associated Press


This video image provided by the Network pool shows

Supreme

Court

Justice Samuel Alito, left, and fellow justice watching President Barack Obama's State of the Union Address on Capitol Hill in Washington, Wednesday, Jan. 27. From left are, Alito, Justice Sonia Sotomayor, Chief Justice John Roberts, Justice Anthony Kennedy, Justice Ruth Bader Ginsburg, and Justice Stephen Breyer.
Labels: President Obama, State of the Union, supreme court