Nothing like music to lift the spirits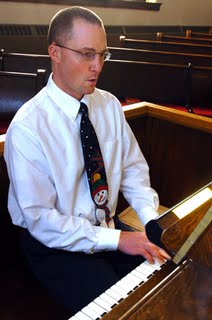 SPOILER ALERT: These concerts are FREE!!
On a cold day, or any day, there's nothing like a noon concert to break the day and lift the spirits. I attended Tuesday's (Jan. 5) noon concert at St. Luke's United Church of Christ.

Some 35 or so souls took refuge (and a break) from their daily routines (and the cold). Among them was Ginny Hudnut of Lower Salford who says she loves music and the noontime concert was very convenient. "An opportunity to hear great music," she said.

The first in the January Tuesday at Noon Organ Recitals at the North Wales church featured organist Vincent M. Ryan, (seen above) minister of music at Advent Lutheran Church in Harleysville. His program featured holiday-related pieces, as it was still the holidays, he said. And, there was audience participation as he asked the audience to suggest some songs from the hymnal. That was really special, a nice way to cap the season.

There are three more concerts this month. Rudy Lucente, an assistant Wanamaker Grand Court organist performs Jan. 12; Marian Archibald, organist at St. Luke's UCC, Jan. 19; and Scott Myers, graduate of the Curtis Institute and The Julliard School, Jan. 26. The church is at 125 N. Main St., North Wales. There is parking behind the church and there is public parking nearby. The concerts are free.
Labels: church, concerts, entertainment, music, organist